About The Brown
Environmental Responsibility in Louisville Without Compromising Service
With 293 guest rooms and more than 30,000 square feet of meeting and banquet space, three restaurants and 180 employees, The Brown Hotel mission is to provide the finest in service to our guests while creating a culture of environmental responsibility. We stand apart by guiding principles that focus on our environmental and social ethos. We are proud to create a welcoming and environmentally responsible experience for our hotel guests and meeting attendees for generations to come. The Brown Hotel's long list of initiatives to support sustainability and stewardship reflects this commitment.
The Brown Hotel is proud to be the first hotel in Louisville to be recognized by The Kentucky Department for Environmental Protection for membership in The KY Excel Program. We invite you to review some of the policies and procedures that led to this distinction.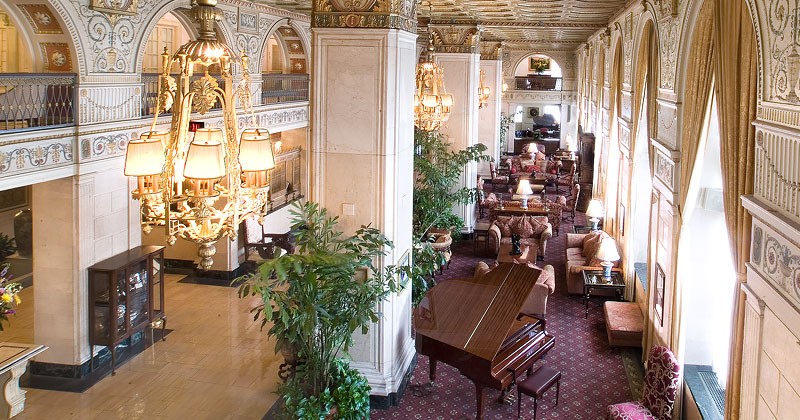 Waste Reduction Practices
The Brown Hotel is engaged in a full-scale composting program to capture food waste and kitchen paper products – if it came from the earth it is returned to the earth!
The Brown Hotel employee cafeteria uses only washable plates, cups and silverware to reduce waste.
Every day, all glass, aluminum and plastic containers; cardboard, office paper, guestroom newspapers, magazines, catalogs, and phone books are recycled. Interesting fact: Prior to instituting this recycling program, our hotel typically shipped 36 tons of waste each month to the landfill through our waste hauling vendor, since the program has been put into place we are averaging less than 18 tons per month.
Earth Friendly Practices
The Brown Hotel has a linen reuse program offering stay over guests the option of only laundering towels and replacing bedding on a per request basis causing a significant savings in water resources.
All of the cleaning agents used by The Brown Hotel's Housekeeping Department exceed Green Seal standards and the Environmental Protection Agency's EPP guidelines.
Appliance and electronic purchases are Energy Star compliant to meet the EPA's highest standards.
Energy Conservation
Guestroom thermostats have been replaced with energy saving digital thermostats, which cut energy use significantly.
Guestroom hallways, bedside, desk and standing lamps are equipped with energy saving CFL light bulbs.
Lighting in offices, storerooms and restrooms is turned off when not in use. Cooking appliances, coffee machines and office equipment are unplugged when not in use.
All guestroom showers have 2.5 gallons per minute shower heads installed, reducing water and energy consumption.
All leaky faucets and toilets as well as poorly insulated windows or damaged energy curtains in freezer rooms are promptly repaired.
Training and Development
A GO GREEN section has been added to our New Hire Orientation attended by all The Brown Hotel staff.
Social Responsibility
The Brown Hotel participates in Metro Louisville Operation Brightside program to raise awareness and participate in the mayor's Go Green Louisville effort.
Local purveyors are utilized for produce, dairy and other food purchases.
Donations of used hotel uniforms are made to a local charitable organization.
Here at The Brown Hotel we also
Emphasize sustainability and reuse as key elements in our overall philosophy.
Share with guests, staff and the community our vision, approach and rationale on sustainability.
Work with suppliers to ensure their products and services reflect our ethics.
Monitor and measure on a regular basis the short- and long-term environmental impact of the Hotel and its operations.
Track and compare energy performance by month and quarter.
Use as many sensors, timers, and energy-efficient fixtures as possible.
Ask vendors to reduce unnecessary packaging whenever possible.
Minimize use of disposable items.
Use paper products (brochures, etc.) made from recycled paper as much as possible.
Recycle ink and toner cartridges.
Avoid aerosols containing CFC or HCFC.