A Brown Wedding: Debbie & Rob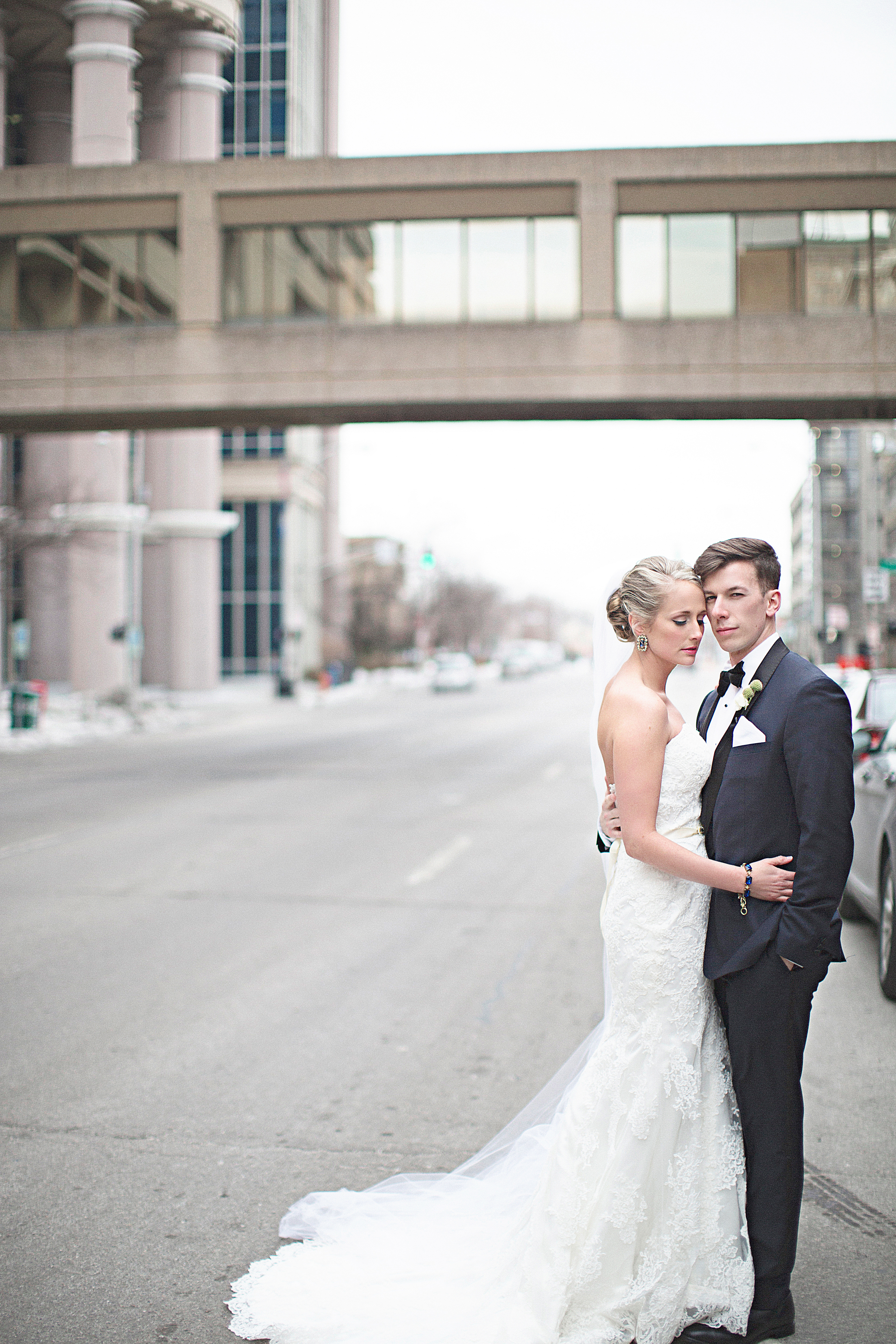 I cannot think of a better way to begin this blog than by giving a shout out to every awesome vendor that we had the pleasure of working with during our 15 month engagement. I am a big believer as I mentioned in last week's blog that vendors play a huge role in a successful, beautiful, & enjoyable wedding day. Our team knocked it out of the park in every way imaginable.
Photography (photo credit for every photo in this blog): Angela Anderson Photography
Decor: Fleur de Lis Events & Design
Coordination: Grace Elizabeth Events
Cake: Mert's Cakes
Hair & Makeup: Ana Crane- Ana Crane Studio
Invitations: Julie Diamond Calligraphy & Invitations
Videography: Veronica Sparrow
Dress: Rebecca's
Our wedding day was everything we could have hoped for and more. Rob & I were married at the Cathedral of the Assumption on February 28, 2015.
The photo above shows off two of my favorite wedding day accessories- First, my veil which was originally purchased and worn by my mom (circa 1970) and then also by one of my sisters on her wedding day in June of 2013. (my something old)
The other is the most gorgeous wedding shawl- hand knit for me by my mother-in-law. (my something new)
Nearly 90% of our guest list were out of towners. Luckily for us the snow storms came before & after our wedding, but not during!! (Our Floridians were especially thankful). However the blanket of snow made for the most stunning backdrop for many of our photos.
While Rob and I were playing in the snow our guests enjoyed cocktail hour in our Bluegrass Room, located just off our Main Lobby.
We love having the bar in the center of the room so family and friends could easily mingle. Guests enjoyed cocktails & delicious hors d'oeuvres including Mini Hot Browns, Monte Cristos, plus the Bruschetta & Vanilla Bound Crab Meat pictured below!
One of our favorite photos from the entire day...
Truly the first time I saw the Crystal Ballroom set-up for our wedding I was absolutely speechless- which if you know me doesn't happen very often.
For dinner our guests enjoyed a Baby Field Greens salad with pear and a goat cheese turnover followed by a Herbed Breast of Chicken with parmesan risotto & broccolini.
Shortly after dinner & toasts were complete we had some special dances. My dad and I danced to "My Old Kentucky Home" and then opened the dance floor with our favorite "Old Time Rock n Roll" by Bob Seger. After about 30 seconds of dancing together we went to get other guests and invited them to join us on the dance floor.
It was such a great way to open the party and most of our guests stayed on the dance floor for the rest of the night!!
To wishing you a wedding day as perfect for you as ours was for us,
Debbie & Your Brown Hotel wedding team